Mark and I have been throwing around ideas for a couple years now about what we'd like to do with our massive fireplace on the main floor. I say massive because it's basically a wall of white brick and it's a bit much for the room. Some people seem to like it, but we're looking for a bit of a change.
For the longest time we were thinking of adding drywall to the top, redoing the mantle and adding mouldings to the bottom. Mark even had it taped out. But we never did anything about it because I don't think we were totally into the idea.
The other week I thought it would be fun to cover the existing brick with some other type of light stone. Similar to what we did here in the
basement
, but more of a whitewashed stone.
Then we'd fill in the sides with MDF to make built-in type shelves.
Here are some photos I found for inspiration.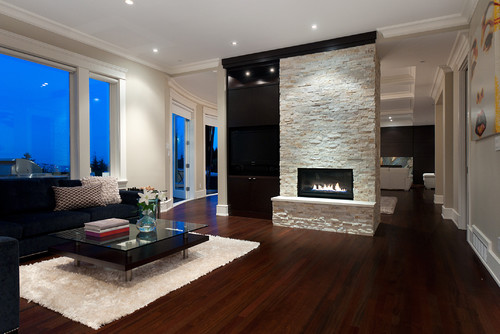 I actually really like this too but it may be too modern for us!
Via
What do you think? What would you do to this wall of brick?